Life Transformation Retreat In NY June 16‐18, 2023
Life Transformation Retreat In NY June 16‐18, 2023
Embark on this healing journey for life-changing detoxification and transformation through the 5,000 years old Himalayan secret teachings. Combination of the traditional special techniques and blessing of the enlightened Himalayan Siddha Master, Yogmata guides you into deep meditation as if you are in the Himalayas. The benefits of this program extend beyond detoxification and rejuvenation to positive changes in the mental and emotional levels. You will have an opportunity to resolve your inner conflict, enable total excellence, and allow you to fulfill your potential to become a complete human being.
Details: THIS IS AN EXTRAORDINARY RETREAT PROGRAM DEVISED AND SUPERVISED BY HER HOLINESS, YOGMATA KEIKO AIKAWA HERSELF.
Through practicing meditation of the 5,000 years old Himalayan secret teaching, special practice of awareness and asana, you will liberate blockages and traumas residing inside you, develop individual talents and be able to have fulfilled life without stress.
TESTIMONIALS
"I was able to feel and experience my soul in this 3-days retreat." 40's female
"Before participating in the retreat, I was feeling exhausted as I was always being overly concerned for others at work. What this retreat brought me is, that I am able to now bring myself back to a good balance quite naturally, without forcing myself." 40's female
"I was able to smile again." 50's female
"By coming to this retreat, I was hoping to get rid of various personal attachments and to become lighthearted. I came out of it, feeling much lighter and really refreshed, which has made my well-being, very buoyant." 40's female
"During this retreat, I became aware that I had a tendency to become affected negatively when people appeared to be something I was not expecting them to be. As a result of letting this habit go, I was able to have the experience of being capable of giving love to my family through my own initiative." 20's female
"After you finish the retreat, you get this feeling like, "I am so lucky to be granted another opportunity to be born-again". I wish I had participated in this retreat before." 30's male
"Before this retreat, I was always either worried about the future or frustrated about things that did not go as I had hoped. But now, from the bottom of my heart, I am truly feeling at ease with myself about living my life. 20's male
Message from Yogmata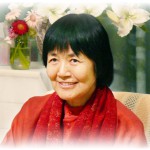 Going back to the Source is the highest and most rightly purpose of human life.
It is something we should put first in our lives, above anything else.
We can then feel much easier in our lives, see things more clearly, enrich ourselves in our work, live in service for others and have our wishes fulfilled.
If you do not do this sort of training, you will continue to live your life, at the constant mercy of your mind, wasting precious time and resources in futile activities, prompted by petty attachments.
I dearly hope that you will come to this 3-days retreat and learn how to constantly stay energized and be fulfilled in your everyday life.
~Yogmata
Recommended to those
●who wish to blossom their talents and succeed in their careers
●who want to become energized and stay young
●who want to stay healthy and continue doing things you like
●who wish to improve relationships
●who want to find the purpose of life
●who want to be free of fear, worries and stress
●who want to learn meditation safely
●who want to find good partners in life and work
●who want to make the process of raising children easierIt is God's gift to you.
Location
Midtown Manhattan in New York City
* Details regarding the retreat venue will be advised to those who have enrolled
Date/Time
June 16th(Fri) 6pm – June 18th(Sun) 6pm
Fee
US$2,500.00 (The fee includes shared room accommodation separated by gender)
* Early registration discount is available. If paid in full in advance, the fee is US$2,200.00. The deadline for the early registration discount is June 9th.
Registration has closed